Scattered about the winding, labyrinthian streets of Oakbrook are a bounty of unique, striking homes. For a neighborhood that was a large plot of yet-developed land with a few thru-streets in the late 1960's, there's a remarkable growth that you can see happen before your eyes simply by browsing some historic aerial photography.
By 1981, after a little over a decade of development, Oakbrook had bloomed. Built just to the west of the Oakbrook Golf Club (constructed in its own right in 1966), the area's homes feature a variety of architectural styles, giving it a particular draw for Lakewood property buyers. From classic to modern, there's options for every taste.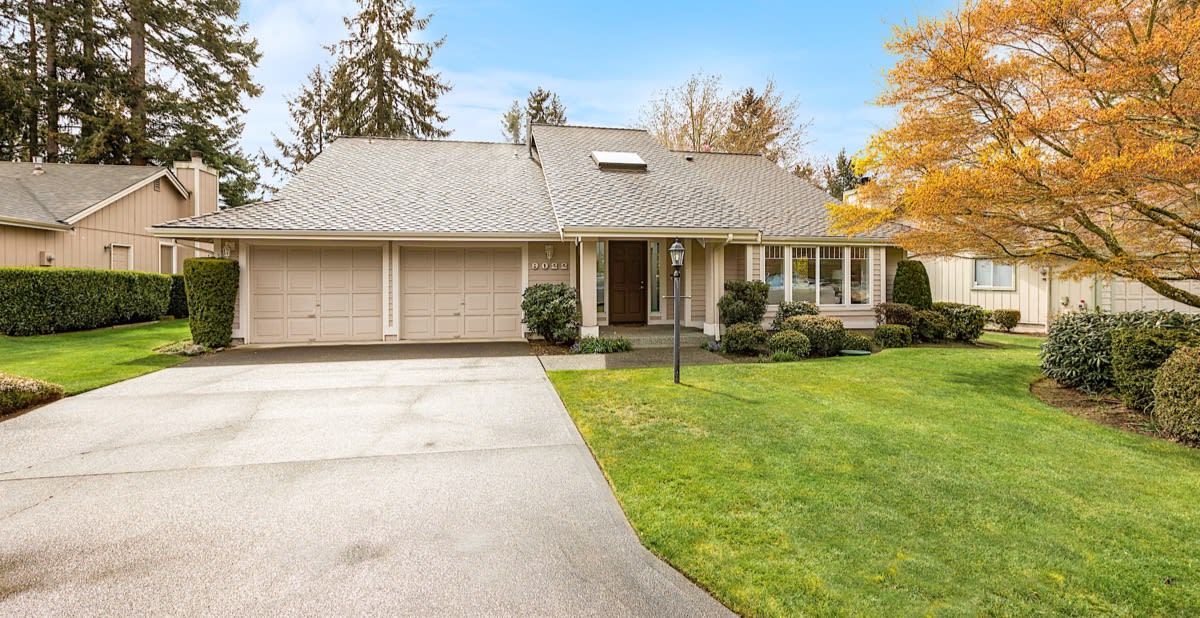 Therein lies a home at 9022 81st St. SW. On the outskirts of the development, this conveniently-located rambler makes a stunning first impression with its sloping roofline and elegant covered patio; not to mention the utility of its two-car garage and wide driveway with additional street parking space.

This 1991-built home pulls no punches with its spacious construction style, utilizing an entryway room with vaulted ceilings and a skylight, which you'll see a few more times as you explore through this 1,930 square foot home. With parquet flooring, this room gives you the opportunity to kick your shoes off before leaning back and relaxing in the first living space.

Flow is the name of the game with this combo den-dining room. Brand new light carpets accentuate the abundance of natural brightness in this section of the home. As you travel from this space into the kitchen, you'll notice that despite being constructed in the early 90's, this home exudes a more classic feel, reminiscent of many of the 1950's ramblers scattered around Lakewood. Crafty use of angles and sight-lines drives this styling home, if you'll pardon our pun.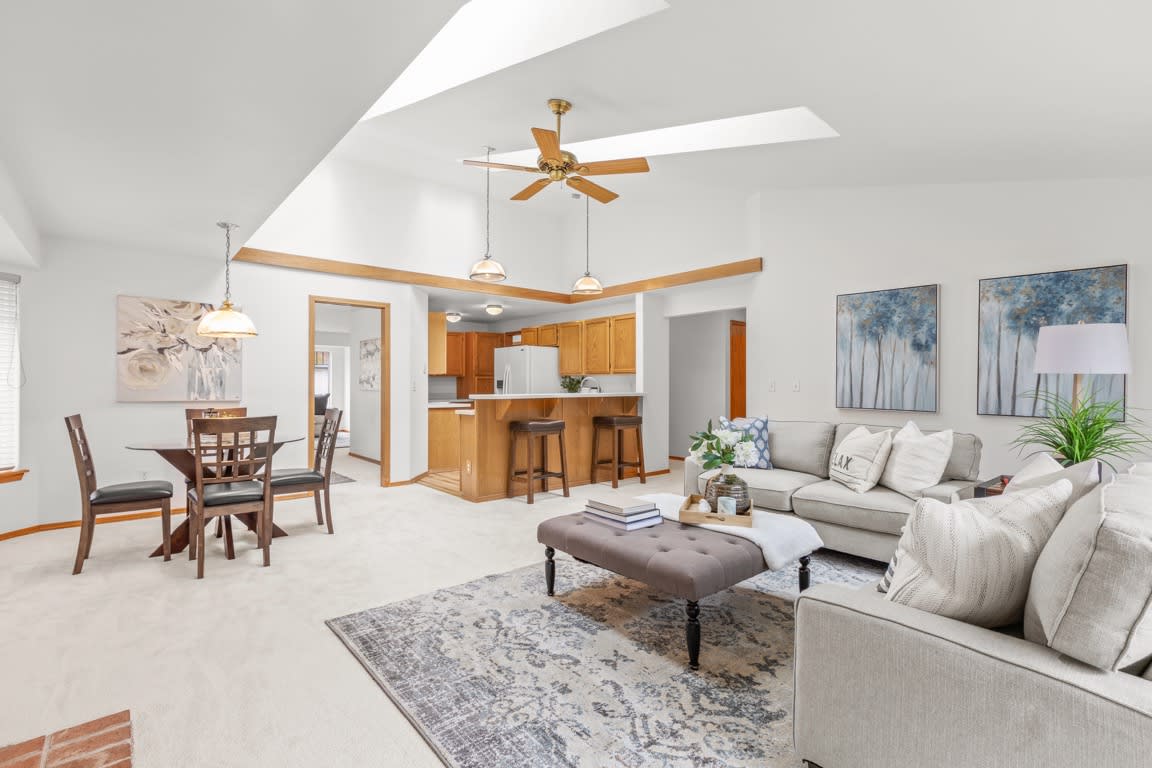 Through the dining room door, you'll encounter the primary living space. We can say without fear of contradiction that the impression left by this room is a particularly grand one. Vaulted ceilings, more skylights, and an entertainer's kitchen further make use of those aforementioned sightlines that give this home a certain elbow-room spaciousness many other homes fail to deliver. You'll have no trouble spending quality time with your loved ones here, as every square foot is within sight, and within earshot.

The journey continues down the hallway and into the bedroom corridor. Two spacious guest bedrooms and a full guest bathroom mark the path to yet another highlight of this home: a primary bedroom purpose built to maximize your usable space. This one is all about function, folks. Featuring a roomy walk-in closet and an absolutely darling full bathroom with yet another skylight, this one built into an angled ceiling, there's not only a ton of charm packed into this dwelling space, but also some real tangible utility.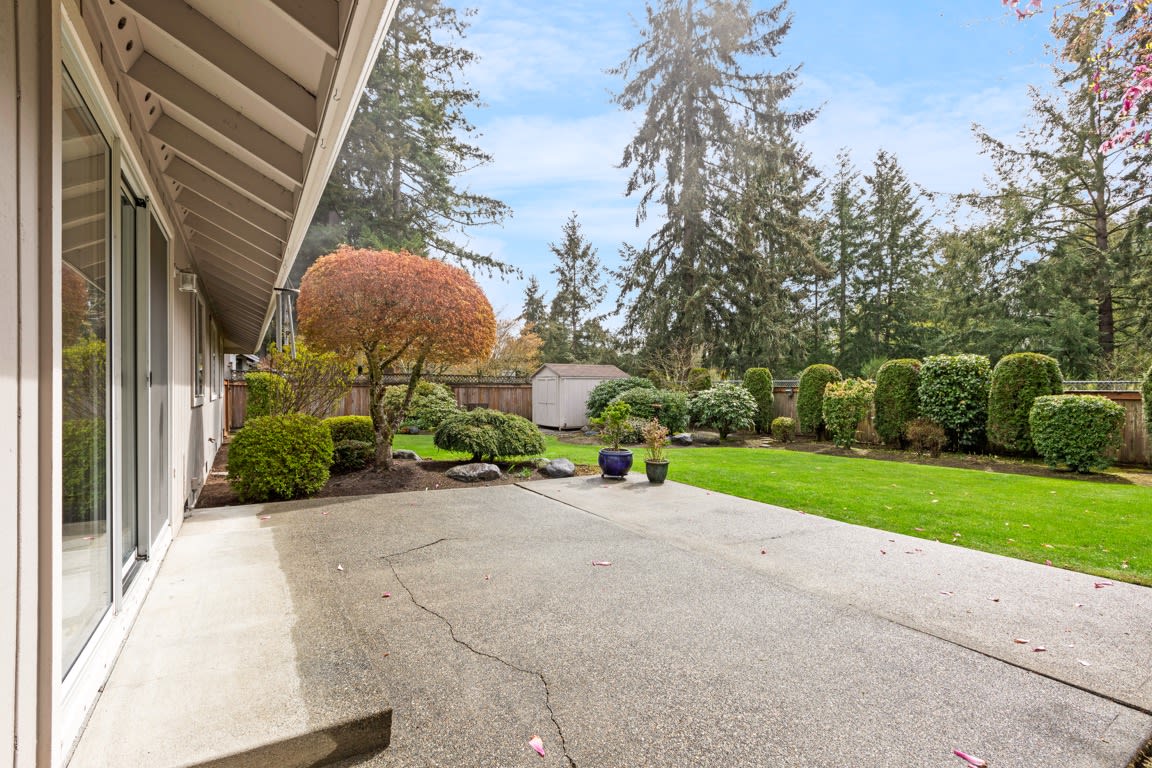 To cap it off, this fully fenced backyard makes the most of its section of this ~9,000+ square foot lot. With plenty of grass for backyard sports and a patio made for gathering, there's plenty of memories to be made here.
9022 81st really is an exemplar of functional real estate, yet also exhibits a certain aesthetic class that is often the product of both careful planning, maintenance, and attention to detail. Something about this home calms the senses. Might it be the abundance of natural light? Perhaps, instead, it is the prominence of open space or the decorative touches? All in, we believe it is a combination of all of these factors, and we hope that during your visit, you'll appreciate these qualities for yourself.
We look forward to your visit.