Responding to decades of confusion among Washingtonian travelers, cap-stoned during the 1962 World's Fair held in Seattle, the Washington State Legislature began a process in conjunction with the Washington State Highway Commission to renumber the state's numerous highways. As nearly 10 million people descended upon Western Washington that year, identically-named routes suffixed with different letters with seemingly no rhyme or reason made arriving at the Fair tremendously difficult for out-of-towners, once more highlighting a long-existing problem for permanent residents.
By 1964, nearly every large thoroughfare in Washington had new signage and new a new name, and by 1970, the state had codified that significant renumbering effort into its RCWs, ending the conflict with a simple system: even numbers indicate east-west routes, while odd numbers indicate north-south routes.
Among them, State Route 16 replaced what was once named Primary State Highway 14. With the infrastructure of SR16 between the I-5 Interchange and the Tacoma Narrows Bridge growing tremendously over the following decades, the rise of commerce and residence in the area too rose, bringing need for new homes, amenities, and great change to the quality of life for residents dwelling in existing post-WWII inventory.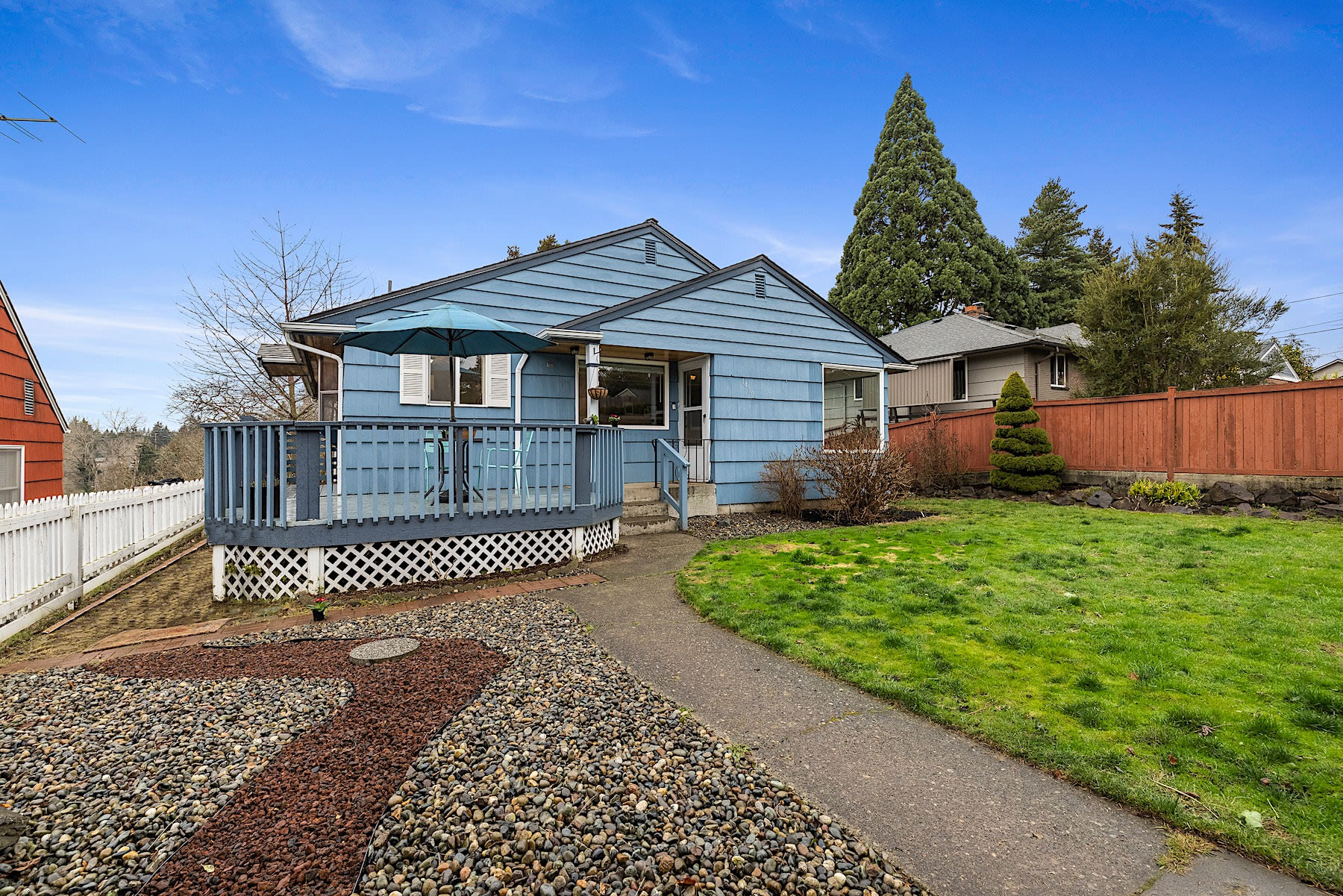 We admit that this is a long-winded allegory for a consistent truth in the real estate business; that there's a tremendous charm in properties that have lived through the ever-changing history surrounding them. Just minutes away from State Route 16 is one of those homes, a darling Tacoma two-level that, though touched-up in places over time, still bears its 1950's character in full. Its facade is a striking one, most notably featuring a semi wraparound deck that accesses both the main entryway and a door directly to the kitchen.

We begin our tour through 1430 S Mason Ave in the entry space, a lovely demonstration of an aforementioned character reminiscent of mid-century home design. You'll immediately be drawn to a tasteful fireplace setup, flanked on either side by built-in shelving typical of the era, and backdropped by a gray accent wall. Overhead, straight-lined cove ceiling accents add a touch of depth to the room. Under your feet, ever-desirable oak hardwoods accentuate the roominess of this gathering space.


The upstairs dwelling area provides three bedrooms, all graced by the same hardwoods present in the living room. Convenient closets and ample space make your night-by-night living comfortable as a new set of sheets. A full bathroom with built-in storage completes the corridor. Exhibiting touches of both the past and the present, this bathroom is perfectly suitable as-is, but does allow a homeowner the potential for further modernization, should it suit their tastes.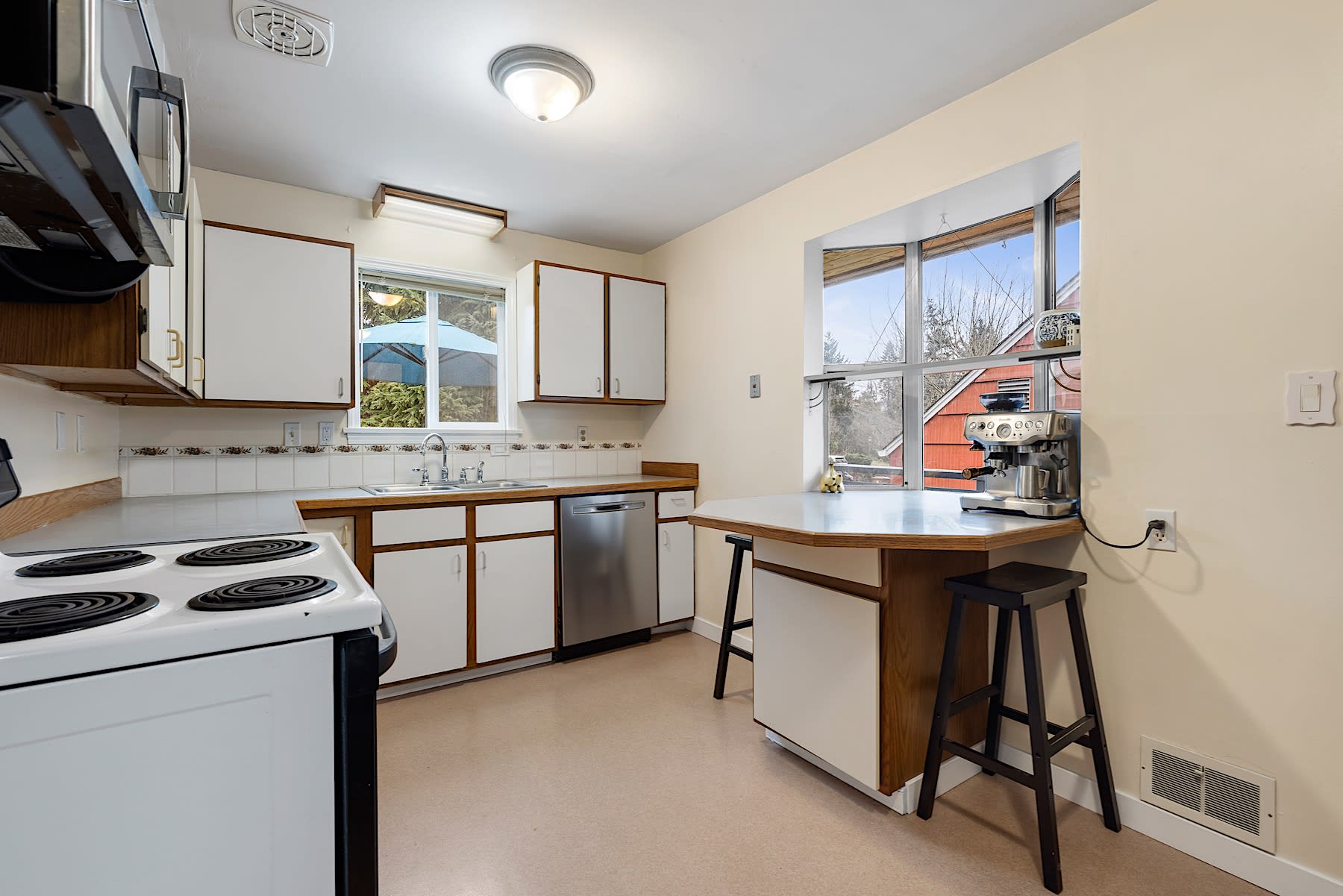 Via this entry space or through the front deck entrance is the home's kitchen. An L-jointed counter, sink, and stovetop lie below bountiful cabinet space, making for an efficient cooking experience. For additional convenience, a built-in dining table sits at the foot of a polygonal window, a perfect way to soak in morning sunlight as you enjoy breakfast and your first cup of coffee.

Rambler-style homes dominated much of the new construction built in the 1950s, but this particular home employs a more multi-leveled approach. Down a flight of stairs to the ground-level is a nearly full secondary living space. Not fully pictured here but available to view in the MLS photo roll and listing collection websites is a bedroom and ¾ bath. In the living space is a bounty of square footage, new carpet throughout up to the top of the staircase, and direct access to the back deck. Only missing a secondary kitchen to make this area fully autonomous, it's still a prime ground-level rental, or a perfect space to enjoy gameday.

Outside, butting up to alleyway access, is a driveway to your garage, and a fully fenced backyard. Tiered stylishly to separate a grass space from a stone and wood exterior patio perfect for a backyard campfire or barbecue. Wrapping around the north end of the building is gated access to the front of the home. A side note relevant to the outside of the home: the sewer liner running fully from the home to the road connection is brand new.
Indeed, this home blends modern touches with the unmistakable charm of history in architecture. Not only that, but a location central to downtown, Highway 16, Tacoma Community College, University of Puget Sound, the Tacoma Mall, AND the Narrows Bridge makes the life of a Tacoman all that much more convenient.
We hope you enjoy this Tacoma classic, and we look forward to your visit!
CLICK HERE... for the Property Details, Price, and more Photos!