The Tacoma Narrows district is a spot unlike much of the Pierce County metro. Steeped in history, from the construction of Highway 16 as a conduit from Tacoma to the Peninsula, to the disastrous collapse of the original Narrows Bridge and subsequent reconstruction delay due to World War II, the area tells a fascinating story.
Much of the real estate in the area carries with it the roots of that history, with relatively dense housing built during and after WWII in western Tacoma for a burgeoning military population among the most notable characteristics. Near the end of 6th Ave (a hotspot for small retail businesses, dining, and entertainment in its own right), at the mouth of Titlow Park, you can see the ruins of a ferry dock that predates the Narrows Bridge itself burgeoning from the Puget Sound, telling the story of a once-active transit point from the mainland to Point Fosdick.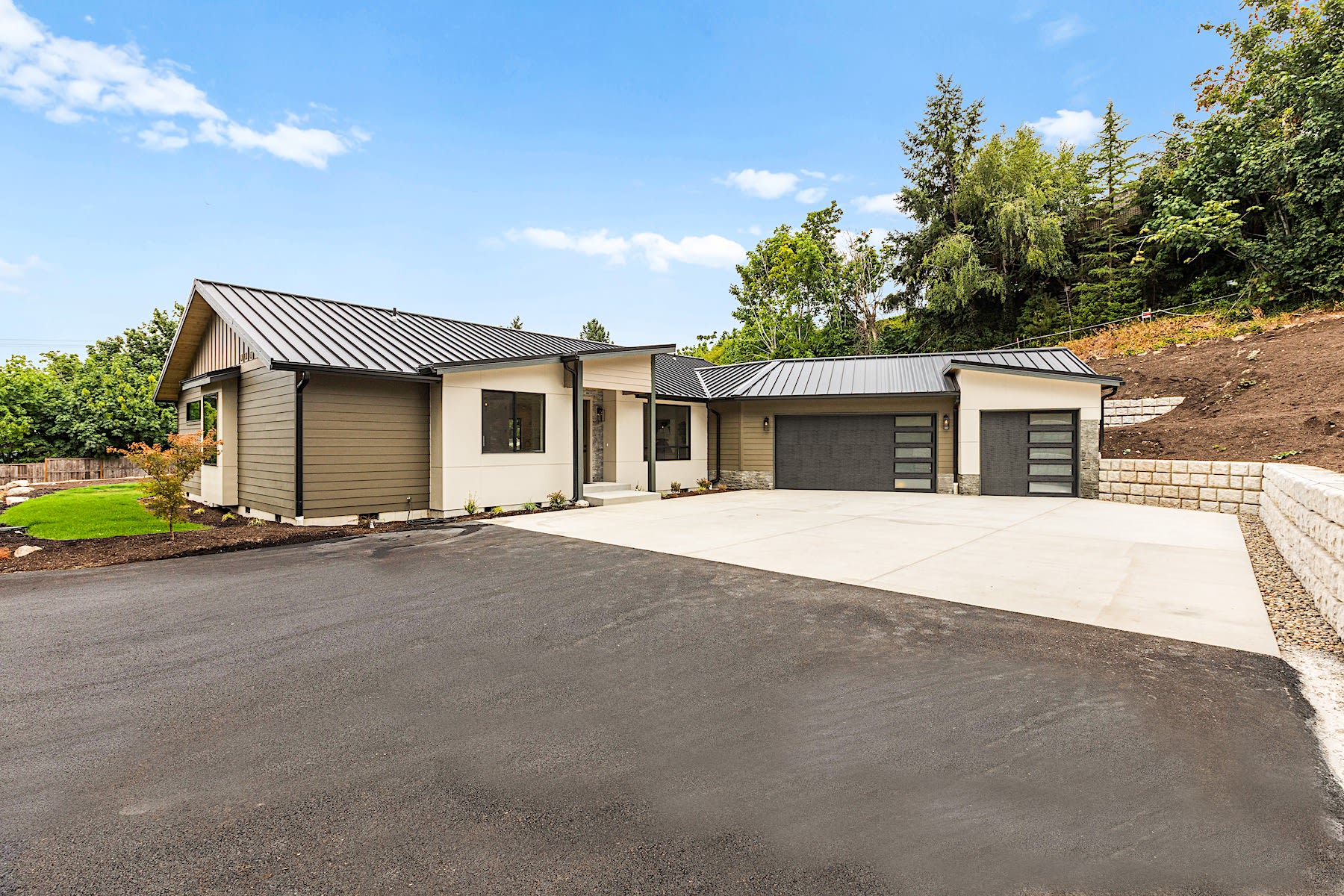 Mixed in among the old, though, is a tapestry of newer construction, particularly west of Bridgeport/Jackson. With stunning views of the water, there's little surprise as to why folks flock to the area hoping to build their dream home. Among these homes, a property at the waning western end of 6th Avenue with a water view, and a deluge of quality-of-life amenities that very few other homes can claim.

Homeowners will be greeted with a stunning first impression every time they enter this nearly 2,500 SqFt one-level through the front door; one that fills you with a sense of calm and content. Creative angles, a broad floor plan, and tall ceilings wrap you up from the first step you take onto this luxury vinyl plank flooring. To your left, an office nook benefits from an overflow of natural light to curate a serene environment from the work-from-homers. To the right, an entertainment space currently staged as a dining area fit for a candlelit meal. Ahead, a kitchen area with enough room for all your loved ones to stretch their elbows out and relax.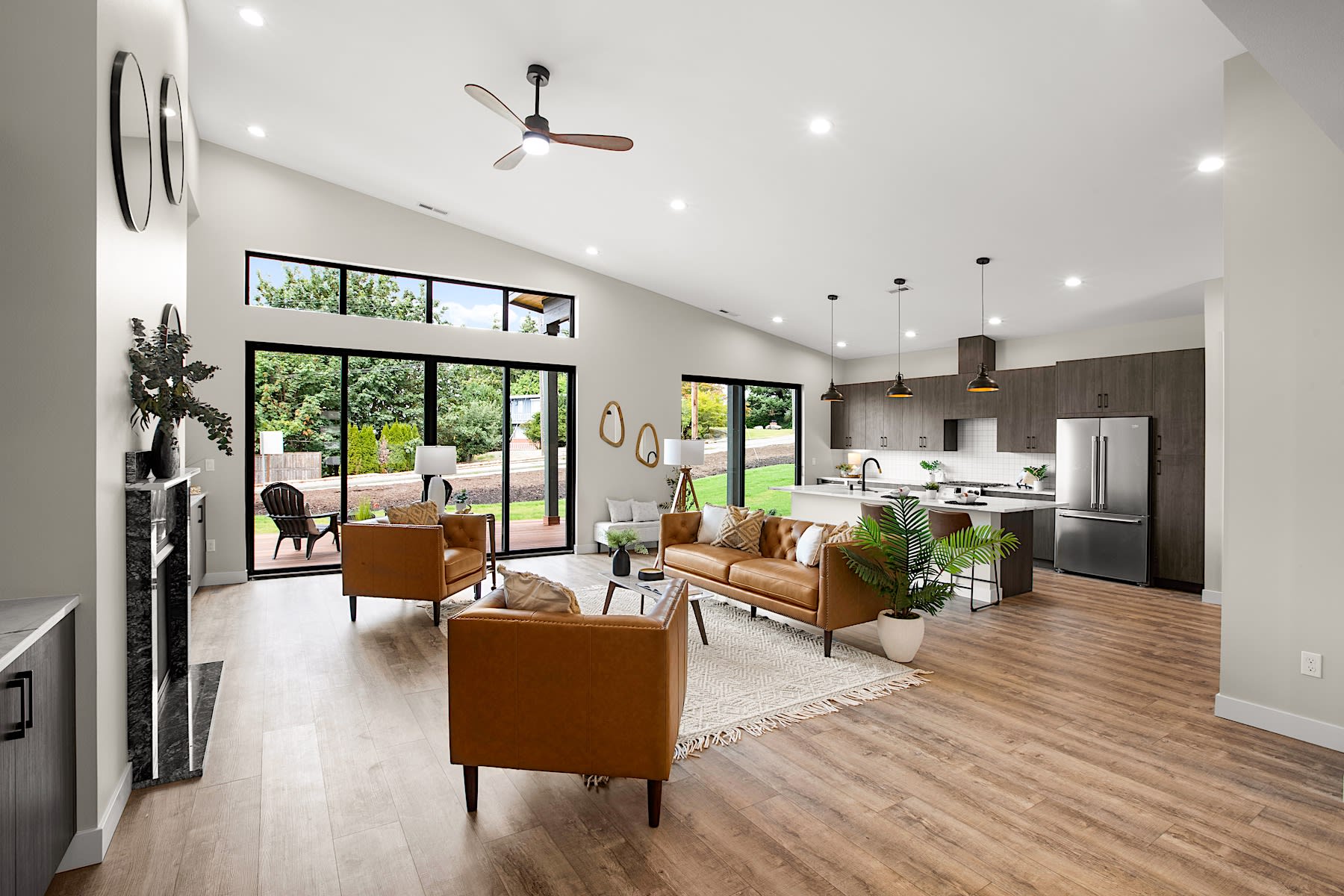 Quartz countertops on the island of this kitchen are a luxury, and yet far from the neatest amenity offered here. Enjoy two sinks (one on the island and one on the bar), vaulted ceilings, antimicrobial surfaces in all cabinets and shelving, a gas stove, and a retractable hood fan over the stove that turns on when it's pulled out. The aforementioned luxury vinyl flooring extends through to this room, underpinning a delightful, timeless, and bright design with stark dark accents.


Consistency is the key to a successful home design, and in tune, 7702 6th brings it from end to end. A primary suite befitting royalty benefits from near-panoramic lighting, tall ceilings, and the same accents characteristic of the main living space. Behind the suite's charming barn door is a bathroom/walk-in closet combo with further luxurious touches. Note the modern lantern style hanging fixture, Edison-bulb rustic sconces above the vanity, and textured tile walls, all of which amount to a bold and successful design choice. A standalone bathtub and large corner shower only serve to capstone this delightful space. It should, then, come as no surprise with this level of care that the home's additional two bedrooms, spacious in their own right, carry the care in design the rest of the home exhibits.

Beyond the phenomenal remaining spaces and amenities (heat pump/central AC, tankless gas water heater, irrigation system, hot/cold outdoor spigot, and Corian window sills, just to name a few), there is the ever-important element of land and location when considering a home purchase, leading us back to our opening anecdote about the history of the Tacoman west. Once the thoroughfare across the original Narrows Bridge, 6th Ave now brings you into Tacoma, carries you to Jackson Ave/Bridgeport and down the Puget Sound coastline, and boasts in its own right an eclectic bunch of Tacoma mainstays for entertainment and dining.
From the porch, one can peer into the waters of the South Puget Sound, the southern tip of Fox Island lying across from it. We like to think that in that view, one might see a constant through the ever-changing history of our region; from its wartime residential growth, to its transit expansion only mere decades later, and into the remains of the end of a glaciation event many millennia ago that left behind what is truly the emblem of this place we call home.
As much as we enjoy presenting this home to you, we hope that you equally enjoy your visit.
CLICK HERE for more photos, features, and details about the home...