It's fun, on occasion, to follow the butterfly effect. Call the slippery slope a logical fallacy all you'd like, but there's a bounty of intriguing rabbit-holes to wriggle through, should you have the interest, and, less likely so, the time. If we may, let's explore one of them that is particularly relevant to the subject matter of this property.
World renowned architect, Frank Lloyd Wright, has masterminded some of the most innovative residential architecture in American history. Though his work spans the United States from coast to coast, a brief breadcrumb trail outlines his influence in Washington. One particular project of note was his iconic Chauncey Griggs residence in Lakewood, now a historical site in the city. Upstart architect Alan Liddle, only 22 at the time, was the project manager for the home in 1946, and went on to complete it in the mid 1950's after a series of red-tape bureaucratic delays.
Coincidentally, Alan Liddle, a Tacoma-based architect, went on to construct many of his own iconic pieces, including the original upper-school building at Charles Wright Academy, just north of Chambers Creek from Oakbrook.
Frank Lloyd Wright is often credited as the inspiration, if not the outright innovator, of the split-level home. Though the style was most popular in the late 1960's through the 1970's, Wright's "Prairie Style" architecture often featured the same split-entry trappings that would follow in homes much like the one we're discussing today.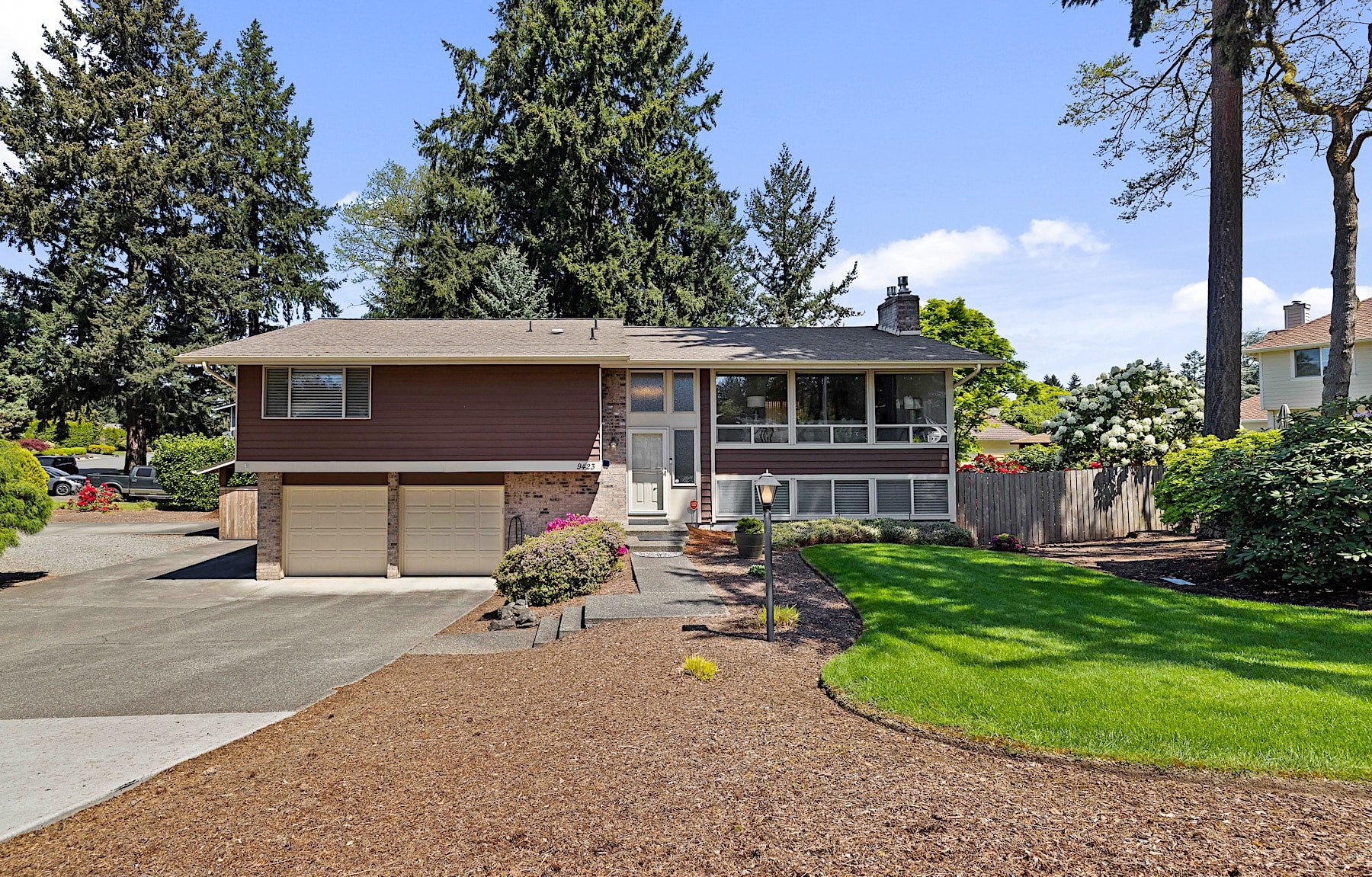 Our journey takes us today to Oakbrook. In previous postings on this blog, you can learn a smidge about the history and culture of this neighborhood and its close-knit and proud community. This particular 2,598 SqFt split-level home, located at 9423 Onyx, is situated near the entry of the neighborhood on one of its main roads, avoiding Oakbrook's tendency to be rather labyrinthine. Its corner-lot is absolutely stunning, complete with a boat shed AND RV parking for the travelers and weekend-on-the-lakers. For the sentimentally minded, this home has had only one owner, and has been cared for immaculately in that time.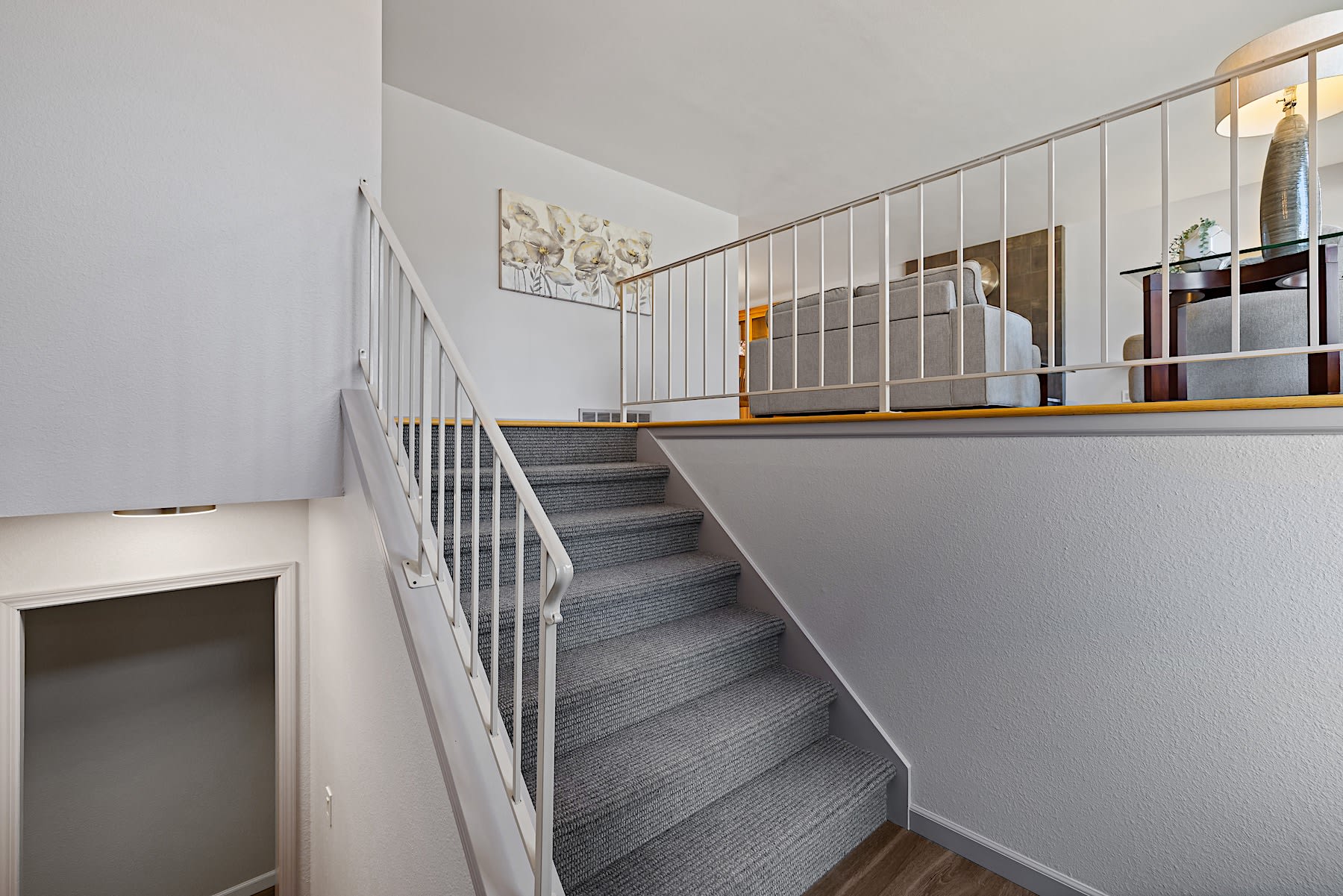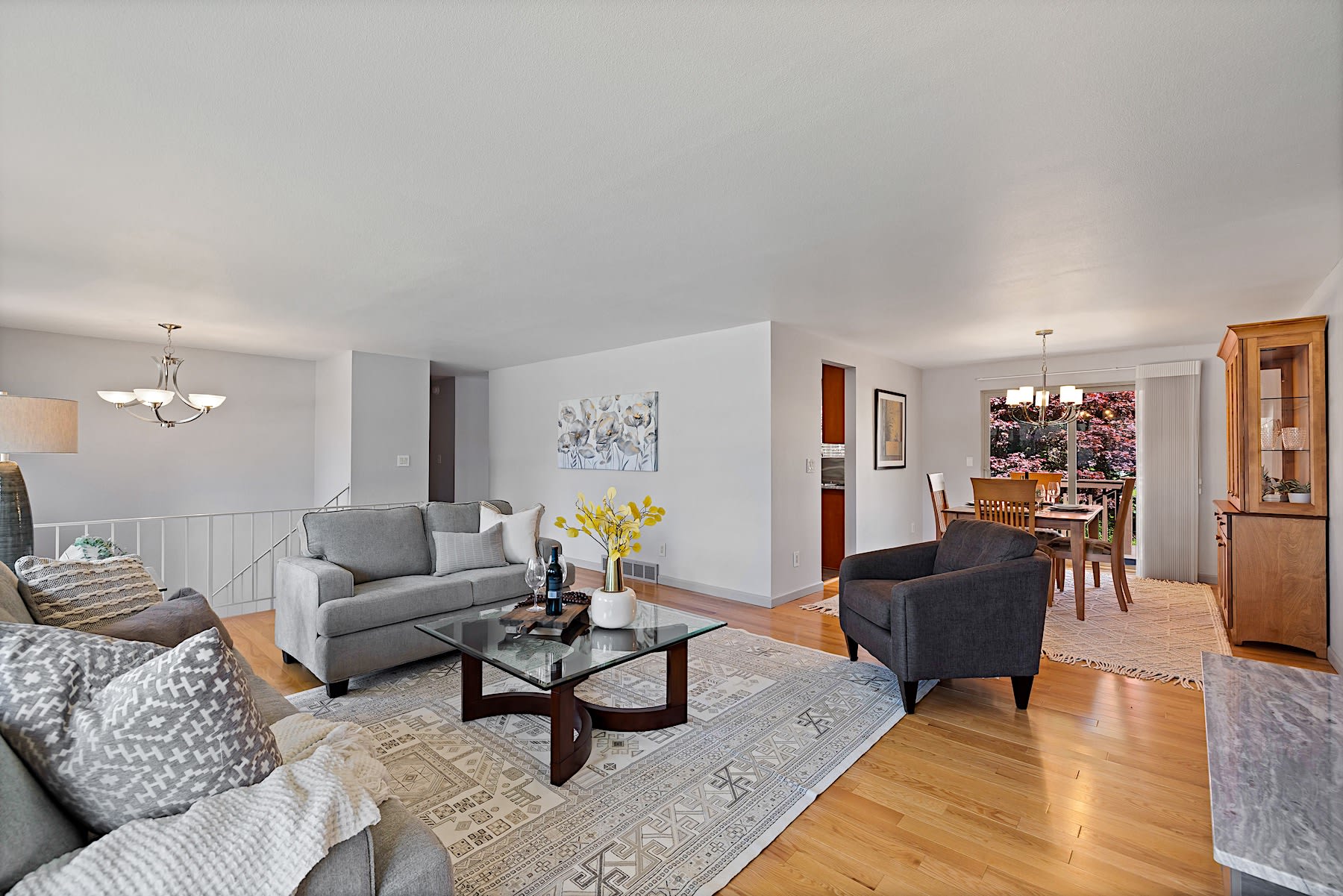 The entryway, a quintessential split-level one in its own right, is illuminated by panoramic front-facing windows to the right and obscured glass windows above. Shelved craftily near eye level is the edge of the light oak hardwood which soars throughout much of the upper level, buttressing the home's eye-catching design scheme. Making a stunning first impression that leaves little doubt of quality, yet stokes the imagination, light gray walls serve as the perfect blank canvas for any stylistic decor direction.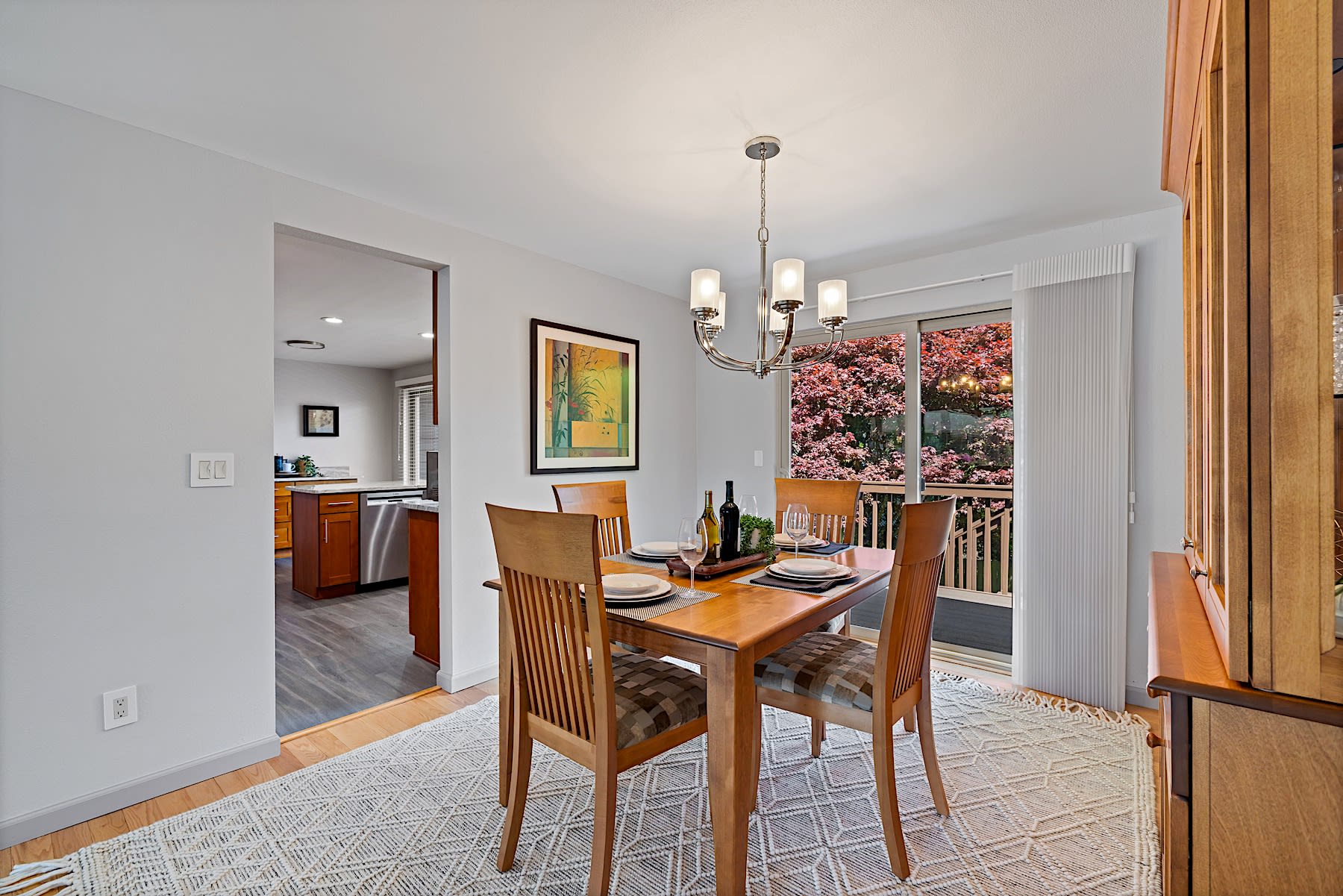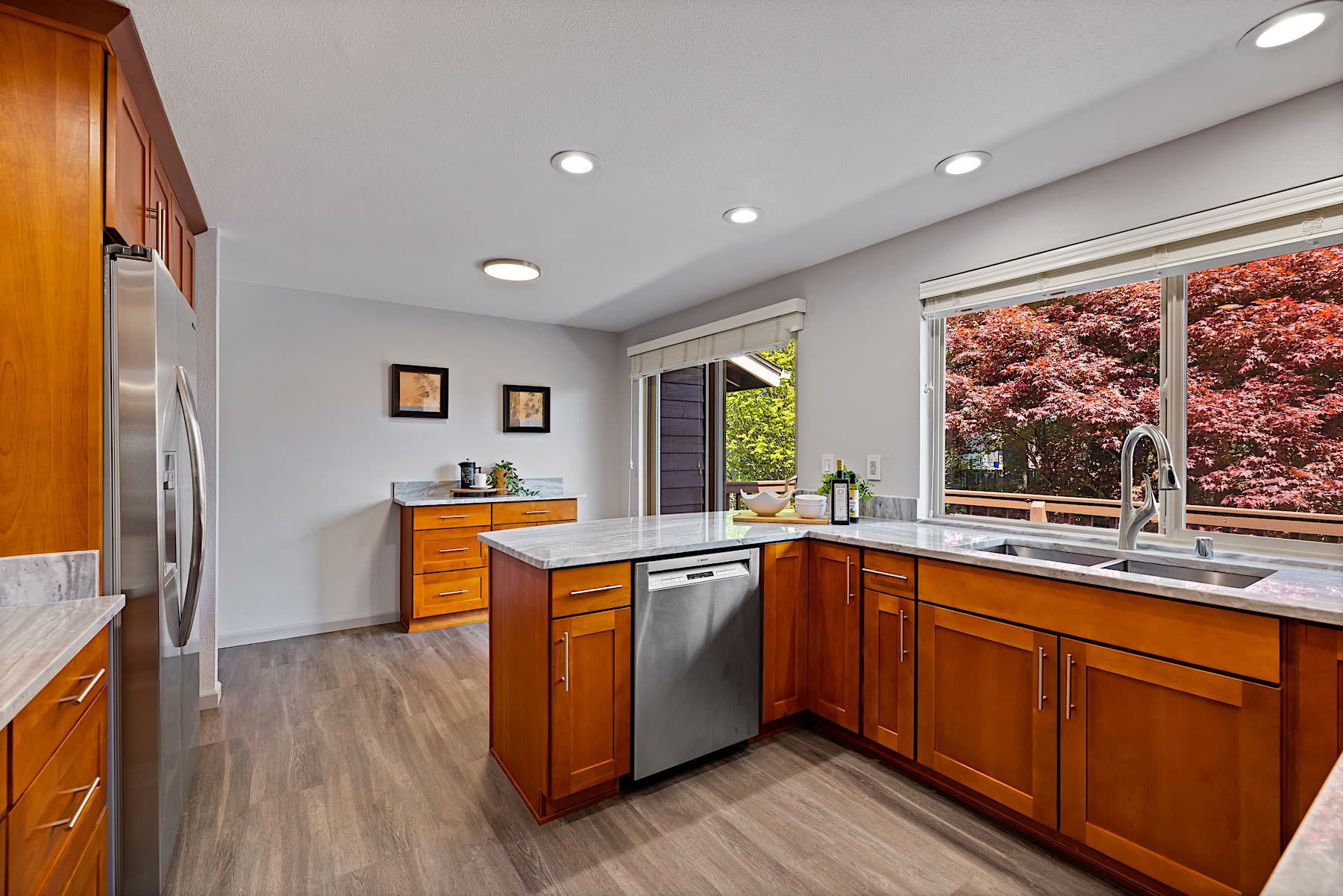 Through a dining nook with a disarming view off the back deck, you enter a kitchen that matches the simple gray styling with bold, vibrant brown cabinets with a tasteful tinge of reddish stain. White tile backsplashes on one side remind of an Italian villa, while more modern accents create a fabulous contrast. Features an induction stove, for the real highlight, though, is the aforementioned outdoor backdrop. A mature maple tree and its greener friends surrounding it provide an explosion of color for the chef of the home.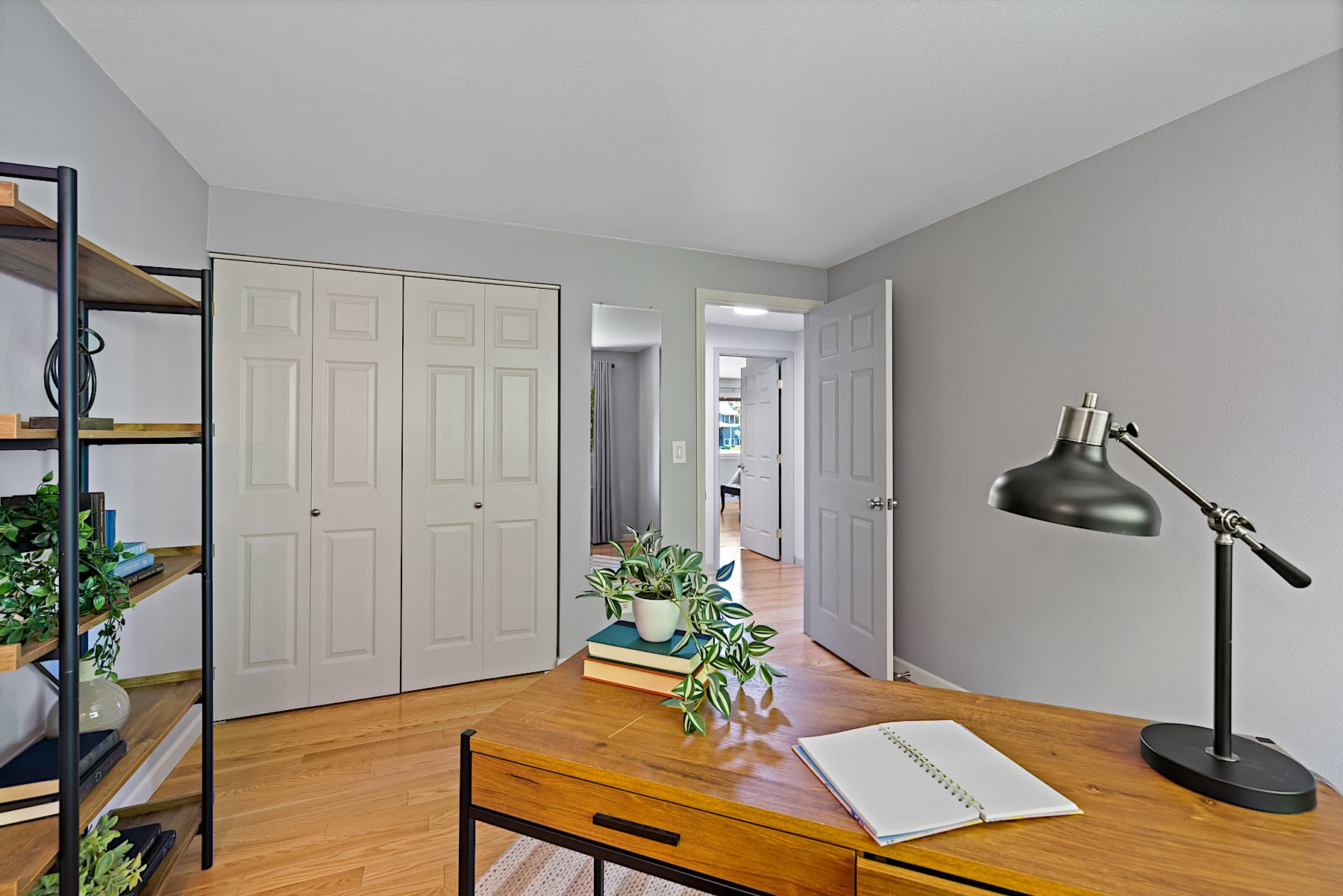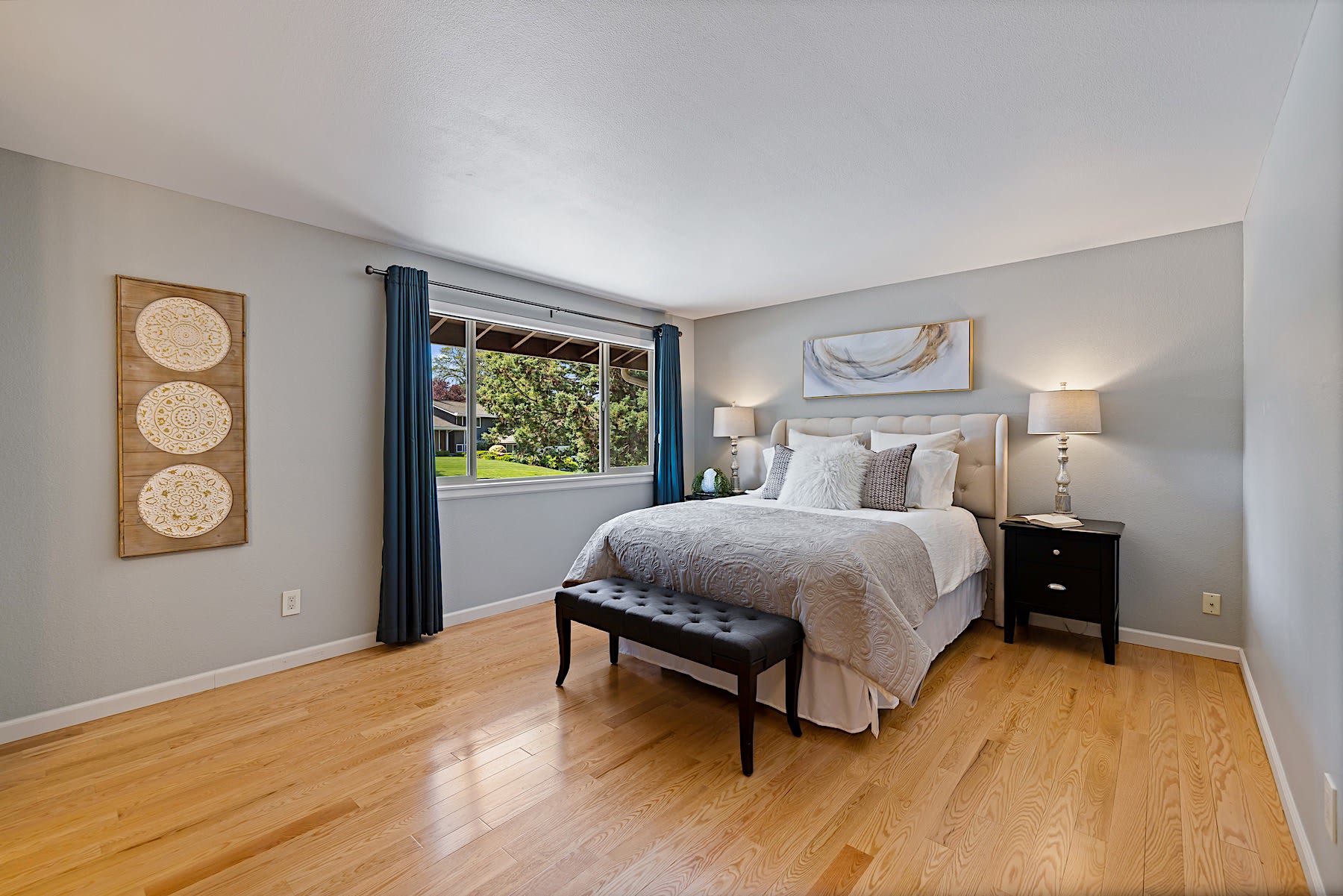 An array of, if you'll pardon the pun, roomy bedrooms adorn the length of the hallway, two of which boast the same hardwoods as the entry area and dining space. The primary suite, an ample dwelling to be sure, features more than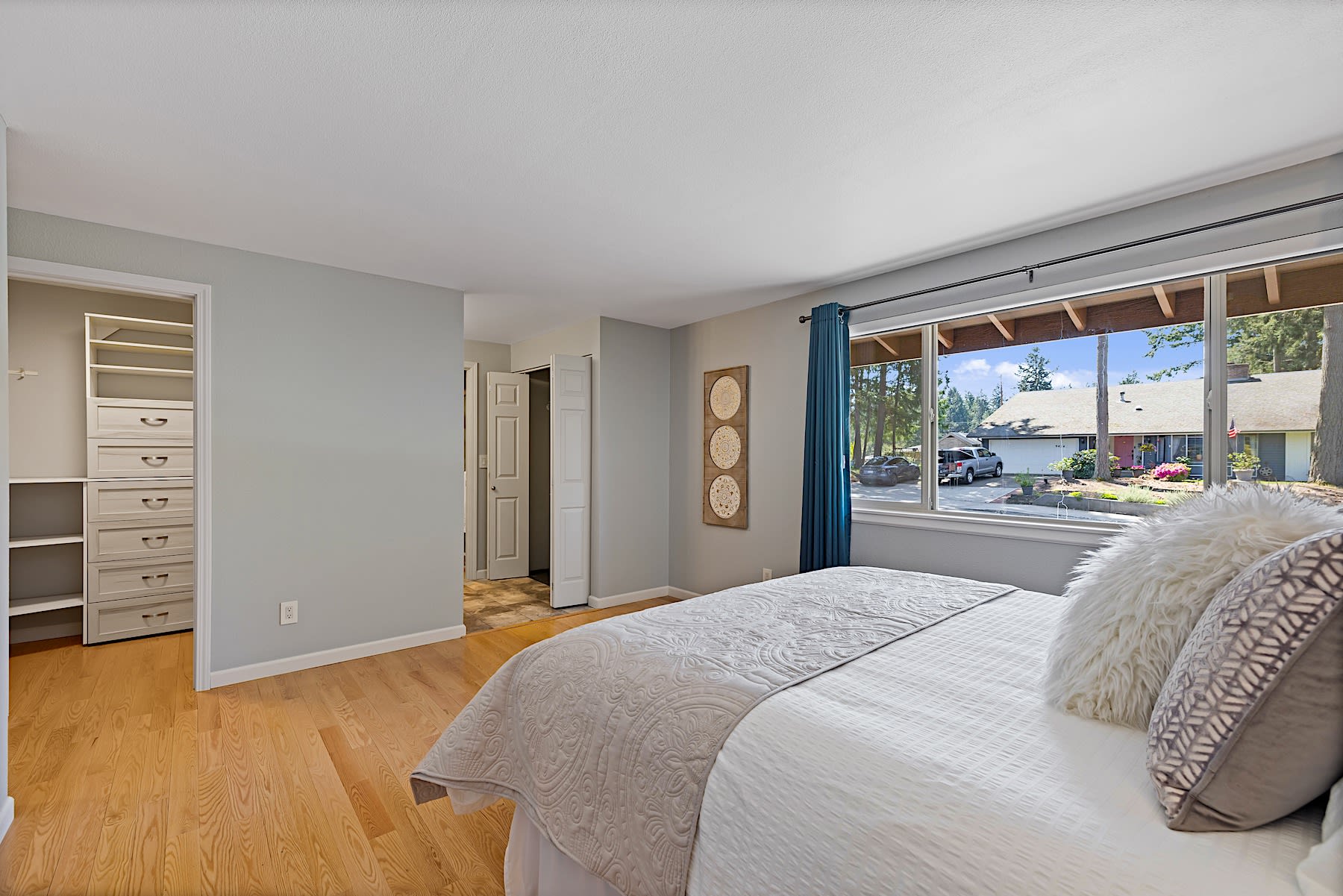 enough room for whatever size bed you can throw at it. A walk-in closet with space to perform a pirouette brings the utility, while a bathroom suite with double bi-fold doors covering additional storage brings the practicality.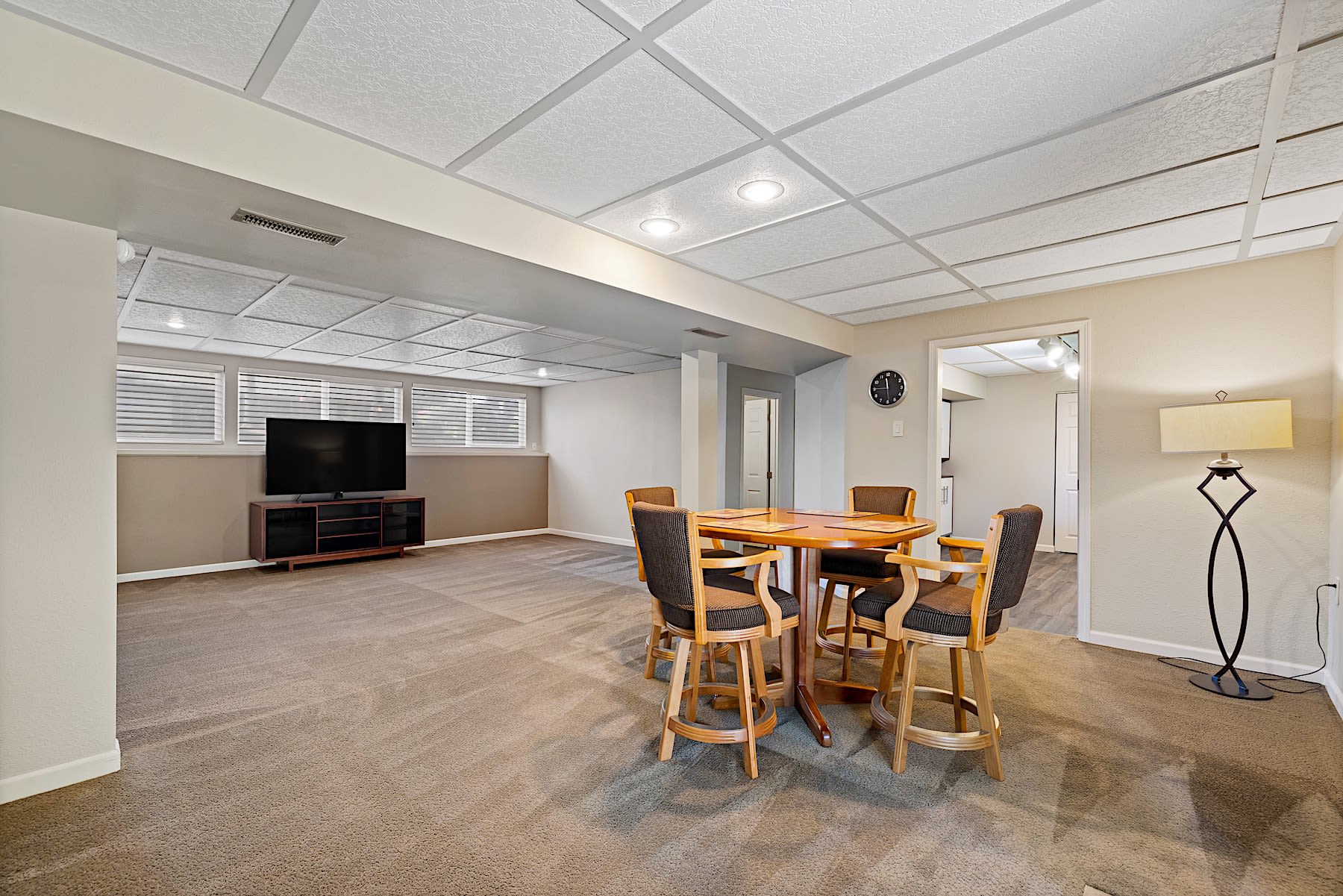 The downlevel of any split-entry home is always a grab bag. Some house the majority of the dwelling spaces, some are partially finished, and some serve as a second living suite. This particular downlevel is an outright entertainment masterclass for those interested in having guests over for the big game or a movie night. It's also your pathway to a roomy two-car garage.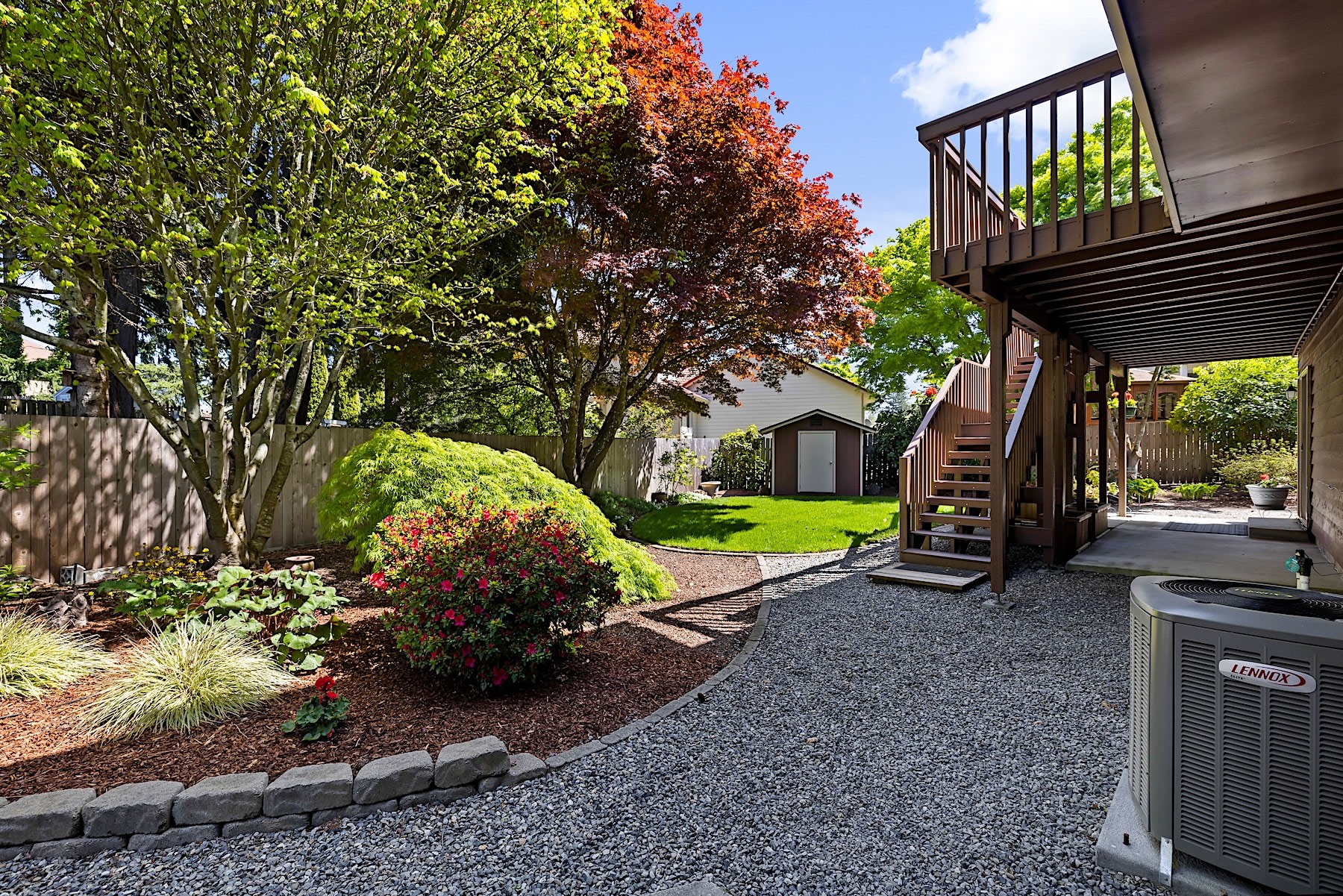 Split-level living is anything BUT dated here. Mixing the contemporary with the modern, having a tremendous piece of property to put it on, and boasting outright convenience in location, 9423 Onyx checks all of the boxes you could possibly have. We're thrilled to be presenting this listing to market. We look forward to seeing you, and we hope you enjoy your visit.
CLICK HERE for more property photos, price, and details...