If you're on Facebook, do yourself a favor and navigate to the search bar. Enter "Oakbrook Community - Lakewood, WA." Spend a bit of time scrolling, and you'll stumble on photos of the yearly beautification project on 87th and Onyx. You'll find a community that bands together to reunite lost wallets with rightful owners. You'll find Oakbrook history, camaraderie, and unwavering pride in the neighborhood. Coupled with the tranquility and privacy inherent to the area, all the ingredients are laid out on the table for a wonderful place to live.

Featuring a 1,886 sq. ft. frame, this 4 bedroom, 2.25 bath rambler tucked deeply into the southwest corner of Oakbrook is notably serene. Next to no road noise disturbs the peace of 79th St, and the light rustling of surrounding trees lays out a tranquil mood upon your arrival.



You'll first notice a well-lit gathering area as you cross through the home's front entry. Spacious and cozy, this room features a fireplace with a brick backsplash, placed over a wood-panel frame. With a room this size, the interior decorator in any homeowner will have free license to get creative with furniture layouts.

Used as a dining area for staging purposes, the home is divided practically into two separate wings by this large nook. With your dwelling spaces to the left and kitchen/entertaining area to the right, you'll have tremendous flexibility with this space. Need to keep work separate from leisure? A bounty of natural light makes this room a spectacular, stress-free office space. Love the ritual of bringing dinner around the corner and serving your guests? Welcome to your dining room. Need to keep the little ones entertained? It could serve as a fantastic, centrally-located playroom.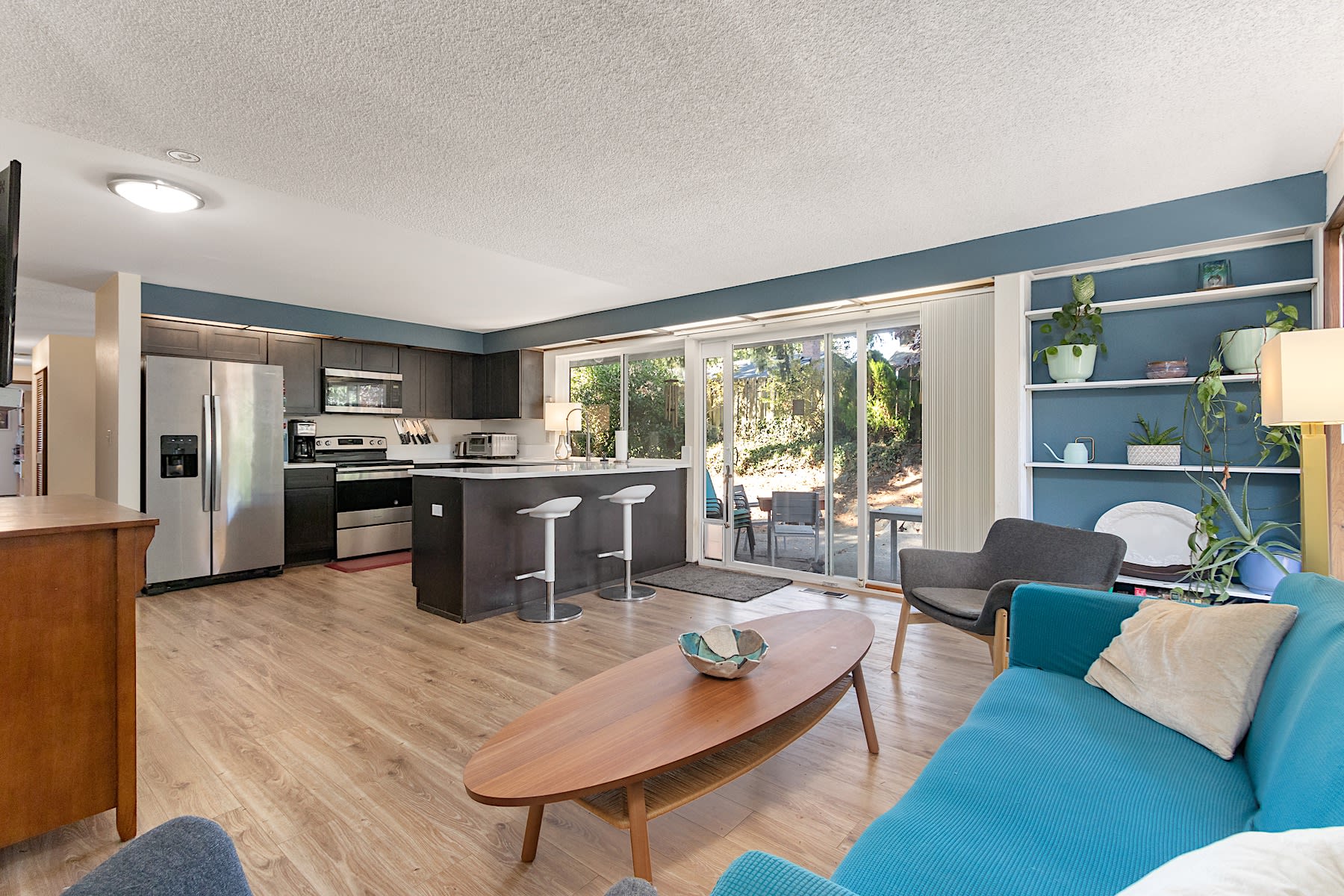 Emblematic of many homes built in the 1970s is a rather claustrophobic, sprawling feel characterized by long hallways, split levels, and very few sightlines. As demonstrated above, this is not the case at this home. An absolute entertainer's dream, this kitchen/den combination delivers an open concept feel that invites socialization with your houseguests. Bar-style seating, a vibrant accent wall, recently updated countertops and a new faucet highlight this wing of the home. Capped off by direct access to the back porch and yard, this room is just right for your summer parties.


Across the home, a four-bedroom wing plus a full bathroom brings about another layer of flexibility for potential homeowners, irrespective of the size of your household. A large primary bedroom with a bathroom and walk-in closet leads the charge, while three additional bedrooms lie close by, well suited for dwelling, working, or playing.
Equipped with new flooring, a new water heater, kitchen upgrades, and, for the unwaveringly eco-conscious, an electric vehicle charger installed in the garage, this home has so much to offer. If we're fortunate enough to earn your visit, we hope you take some time to get lost in the neighborhood, explore the golf course, and experience the peace and quiet Oakbrook has to offer.
We look forward to seeing you.
For more photos and details of this home, Click Here.