In the area surrounding the Narrows Bridge, folks don't tend to move away. We ran some statistics based in the West End, simply counting the number of homes listed on the Northwest MLS in the last 365 days, including all active, pending, sold, expired, and canceled listings. In the past year, only 98 homes have been transacted, canceled, or are in the process of being transacted. Safe to say, West End property even without curation is fairly rare.
We'll be using a magic number in this article; one emblematic of the most stand-out element of this property. That number is 16480. In addition to being the postal code surrounding the Cordillera Azul National Park in Peru, it also describes the total lot square footage of the West End property that is subject to this article.
Among the 98 aforementioned properties in the West End, only ten of them have a footprint equal or greater than this particular property, a 1950's rambler on 1357 N Hawthorne St, none of which quite give you the feeling of being in your own private park.

We begin our tour via a striking entryway, where the eyes are immediately drawn to oak hardwoods that are emblematic of the era and a classic component of the typical mid-century rambler. An old-school layout with some modern-feeling touches such as can lighting and timely paint color, this home blends elements of modern design and vintage character.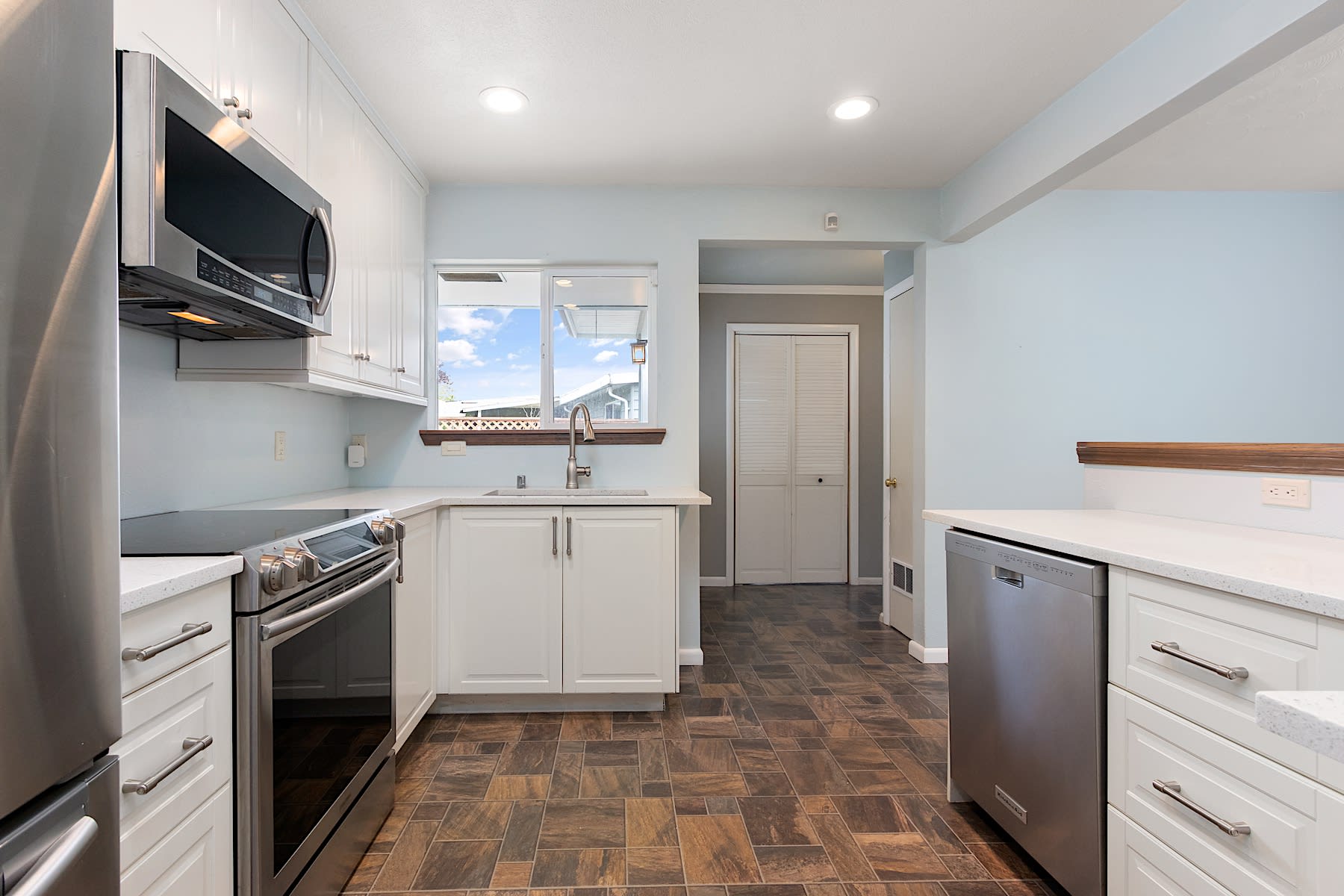 Featuring sleek, light colored cabinets with dark accents, laminate tile flooring, and an island-style countertop, this kitchen combines function and form craftily. Take notice of the open sight-lines from kitchen to living area. With mid-century ramblers such as this, it's a shot in the dark as to whether or not these kinds of sight-lines will exist. Fortunately, this living space benefits greatly from them.

During your visit, make sure to follow the hallway through the kitchen and take a sharp right. You might miss it if not looking closely, but therein lies a tremendously unique den that breaks the mold of formulaic home design typical to many ramblers. Featuring a striking beamed wood inlay ceiling, fireplace, and matching laminate tiling flowing from the kitchen, this space makes for a fantastic and private secondary gathering space.


May we remind you, for a moment, of our magic number: 16,480. With that much lot square footage, especially in the West End, you may expect a simple field or tiered frontage that, while beautiful, may not serve a tremendous practical purpose. Instead, 1357 Hawthorne provides you with what might be described as your own personal park; a serene location to enjoy the summer sun under a gazebo; a spacious yard with plenty of space for sports; or simply a piece of property to walk through and admire.
A shed, a covered storage area behind the carport, a gazebo, an arbor, and a simply stunning piece of land are what make this home truly unique. Fans of a classic home with character and utility will love the inside, and those who appreciate nature will be at home in their own outdoor sanctuary. Photos can only show so much; we hope you take the time to come visit and see 1357 Hawthorne for yourself. We know you'll enjoy your time here, and we look forward to your visit.
Click Here to View more photos and details of this lovely home.